Made by and for San Miguel County residents
The Ten Vital Services:NM directory is a project of 100% Community: San Miguel County in collaboration with the Anna, Age Eight Institute in Santa Fe, New Mexico. The resources in our ten "surviving" and "thriving" services are compiled by the 100% Community action team members who live and work in San Miguel County. The directory is currently in development and in a state of constant improvement. Please contact us to keep the directory's resources current and accurate. We also encourage you to leave respectful reviews of our community services and appreciate you sharing constructive ideas with us for improving services. 
More than just a directory
Ten Vital Services:NM is more than a resource guide. Not only does it allow residents to easily locate vital services for surviving and thriving, it also allows local leaders to assess service accessibility. Quite simply, by analyzing the availability and quality of the services within each of the ten service sectors, it becomes clear where gaps in vital services exist. Ten Vital Services NM helps the 100% Community initiative action teams to create a well-resourced county.
Reviewing services leads to improvements
Honest reviews and ratings from local residents using the services found in the directory is a valuable feature for both county residents and local leaders. Sites like Yelp and Tripadvisor are valuable to their industries precisely because of their published user reviews.
We do encourage all directory users to share their experience of a particular service. All reviews go to a review team to ensure that the review is offering constructive insights and ideas for improvement. The most helpful reviews contain information such as…
How long did it take to get an appointment (if applicable)?
How long did you wait for service once you arrived?
Are the agency hours work-hour friendly?
Are the agency hours and services parent friendly?
Did the service offer to help solve transportation issues?
Was the staff respectful or disrespectful?
Were there problems or concerns about costs and payments?
Was the overall user experience satisfactory?
We hope to see positive reviews as well as suggestions for improvement. Residents can also send reviews, ideas and feedback to the 100% Community team through the "contact" link in the main menu.
What is the 100% Community Initiative?
The 100% Community initiative supports local leaders and stakeholders in strengthening the local system of readiness, care and safety that makes us as crisis-proof as possible. In a world where any day can present new challenges, we can work to make all our communities as strong and prepared as possible.
We know that by investing in strong local systems of care, safety and education, community agency leaders can decrease the challenges of getting access to vital community services. United with local leadership, we can also strengthen local capacity to address any problems related to crime, violence, adverse childhood experiences, trauma, substance misuse and injury.
The hypothesis guiding the 100% Community initiative is informed by a wealth of research focused on a wide variety of topics including the public health model for addressing crisis, emergency readiness, the social determinants of health, health equity, health and education disparities and historical trauma.
HYPOTHESIS: If we ensure that all our families and community residents have access to the five surviving services and the five thriving services, we will increase self-sufficient family households, higher educational achievement, job readiness, employment and healthy residents of all ages.
10 Surviving and Thriving Services
The 100% Community initiative is designed to bring all county leaders and stakeholders together from ten key family serving sectors we refer to as "surviving services" and "thriving services":
The cost-effective benefits
By working on a county scale, with buy-in from local elected leadership and stakeholders, a locality can build the capacity to ensure access to ten vital services. This can achieve groundbreaking results that include: increasing physical health, household stability and self-sufficiency, school achievement, and job readiness.
With a system of care, counties can also reduce costly problems that include: adverse childhood experiences (ACEs), maltreatment, trauma, substance misuse and violence.
CASE STUDY: San Miguel County, NM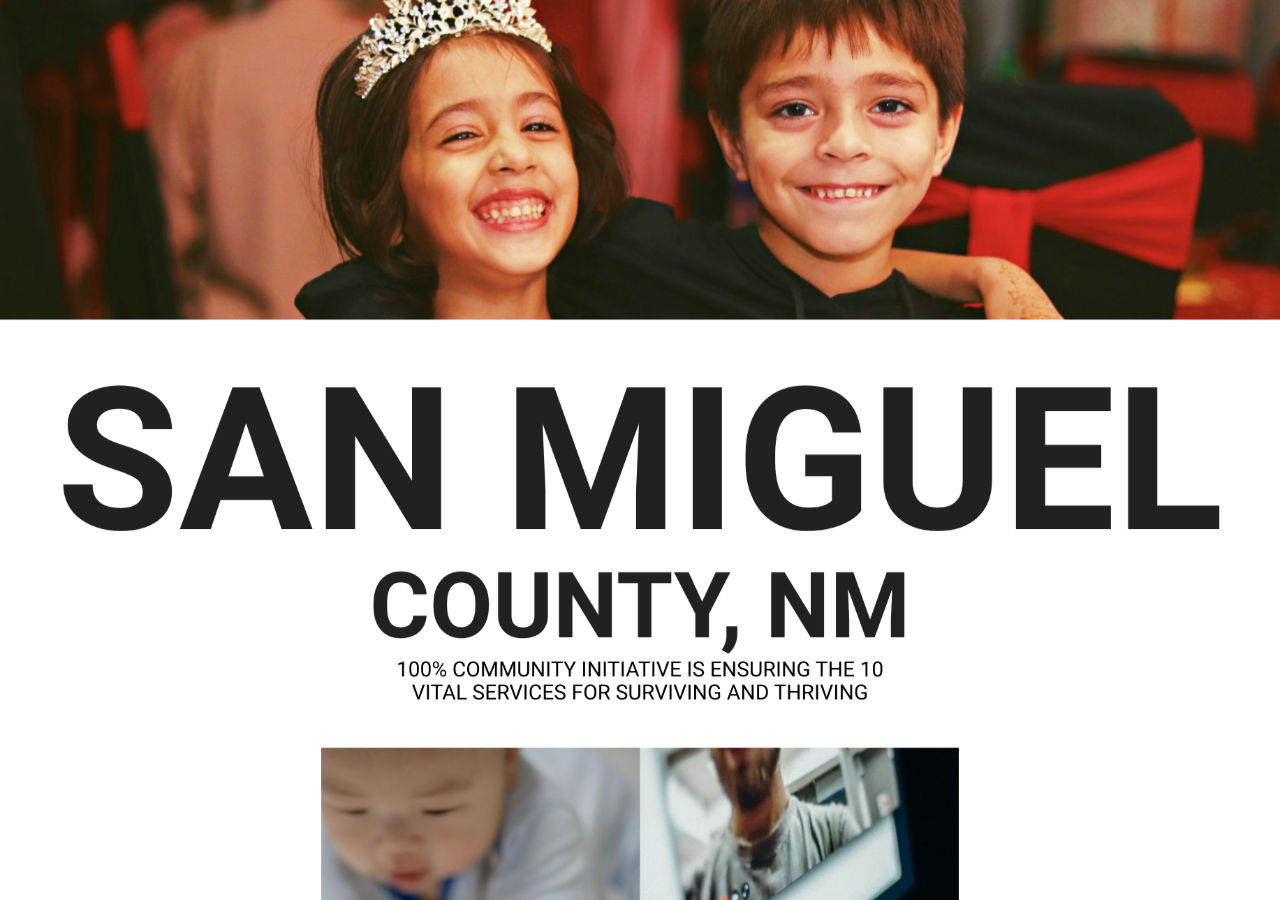 In San Miguel County, Matt Probst, the medical clinic director of El Centro Family Health called us at the Institute. He asked what the first step was for launching the 100% Community initiative. We said downloading and reading the book 100% Community was a good start.
Within a week he has read it and emailed, "What's next?"
We responded, "Can you identify two community organizers and ten action team leaders all willing to read the book and commit eight hours of their work week to the initiative?"
Two weeks later an email arrives from Matt with the bios of the 12-person 100% Community initiative action team leaders. Again, he asked, "Now what?"
From there we started having weekly emails which, post pandemic announcement, turned into daily phone calls and weekly video conferencing to educate and empower his entire county team, working in alignment with city, county and regional emergency management leaders. Matt moved to video conferencing without missing a beat, to keep his team up to date and supported in their work, identifying the needs of county residents with community-focused agency leadership. He said that his team was happy to take the 100% Readiness Workshop and 100% Community course using the distance learning model. You can read more about the San Miguel County 100% Community initiative here.
What is the Anna, Age Eight Institute?
The Anna, Age Eight Institute was funded by the New Mexico state legislature in 2019. Our institute's far-reaching goal is ensuring that our children, students and families are safe and thriving. To achieve this we're using a data-driven process focused on building the capacity of local government, non-governmental agencies and the business sector to provide the surviving and thriving services that community members need to strengthen health, safety and resilience.
We bring to each county's leaders and stakeholders a process of brainstorming, learning, mobilizing and innovating, all with the support of state-of-the-art technology. Locally, the Institute's 100% Community initiative helps guide collaborative efforts using the critical steps of assessing, planning, action and evaluation to ensure accessibility to the ten services shown to empower all families. We are part of New Mexico's higher education system, with a mandate from our state's leaders, to serve all New Mexicans by strengthening local systems of health, safety, learning and economic development. You may download free-of-charge our books guiding the 100% Community initiative 100% Community: Ensuring ten vital services for surviving and thriving and Anna, Age Eight: The data-driven prevention of childhood trauma and maltreatment. Go to www.AnnaAgeEight.org.